POEMS IN WOOD
At the exhibition Poems in wood, with sculptures by the Icelandic sculptor Sigurjón Ólafsson, a selection of the versatile artists spontaneous abstract works is on show.
Exhibition 21/5—11/9 2023
Sigurjón Ólafsson (1908-1982) travelled to Denmark at the age of twenty and received his education from Professor Utzon-Frank at The Royal Danish Academy of Fine Arts in Copenhagen. After two years of studies he was awarded the Academy's gold medal for the . sculpture Labourer and at his graduation in 1935 he exhibited works that pointed towards an abstracting form of expression.
Sigurjón's classical education formed the basis of a remarkable creative talent, that made him a significant part of the Danish avant-garde in the 1930s and 1940s. He participated in pioneering exhibitions such as Linien and Teltudstillingen, which, among others, included the artists Asger Jorn, Ejler Bille and Erik Thommesen.
Sigurjón Ólafsson resided in Denmark during the German occupation from 1940 to 1945. It was during that period that he was commissioned for a monument to be placed on Vejle town hall square, two granite sculptures which he sculptured with his own hands.
After Sigurjón returned to Iceland in 1945, he had a significant impact on the development of Icelandic modernism. Here he created numerous public monuments, a couple of hundred portrait busts, large stone sculptures, and many works in wood. It is as if working with the wood provided him with inspiration for a free and spontaneous expression, where the scope of the visual artistic universe is tested. Thus, the wooden sculptures of Sigurjón Ólafsson become a special and important part of his life's work.

The exhibition is curated by Birgitta Spur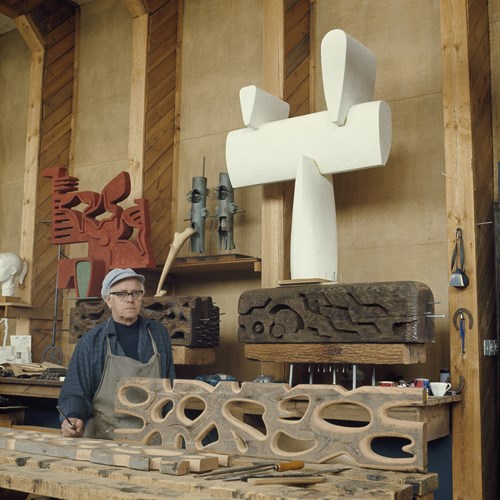 Sigurjón Ólafsson (1908-1982)